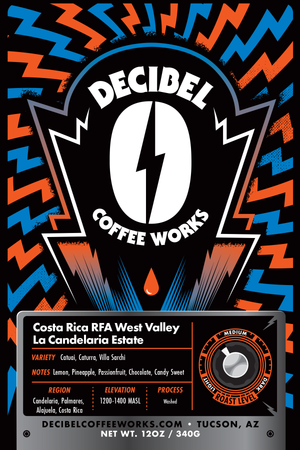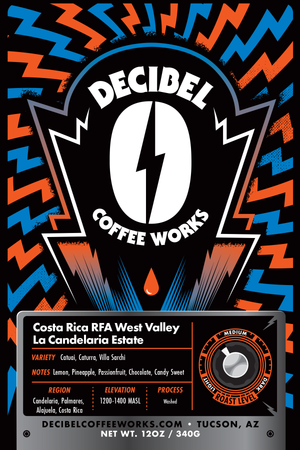 On Sale
Costa Rica RFA West Valley La Candelaria Estate
Notes - Lemon, Pineapple, Passionfruit, Chocolate, Candy Sweet
Grower -  La Candelaria Estate
Altitude - 1200-1400 masl
Variety - Catuai, Caturra, Villa Sarchi
Soil - Volcanic loam
Region - Candelaria, Palmares, Alajuela
Process - Fully washed 
Harvest - December-January
Certification - Rain Forest Alliance
The Estate
La Candelaria estate is large for Costa Rican standards. The estate is located in the vicinity of Palmares, in the Alajuela province. Alajuela is part of Costa Rica's well-known West Valley, one of the country's most historic coffee regions.
Environmental Stewardship
La Candelaria is 150 hectares of blended coffee production and natural forest preserve. Hans Aeberhard, the owner and manager since 1980, runs both a native wildlife protection program and a reforestation program on the estate, in addition to maintaining Rain Forest Alliance certification. In the greater community La Candelaria seeks to make an impact as well, by providing economic aid to the nearby rural school, which is used for nutrition and learning supplies.  
Processing Detail
When it comes to coffee, Hans processes and mills on property where he can oversee a variety of techniques. (This is Costa Rica, after all, where it is not uncommon to see even small family plots exercising extreme levels of mastery over various degrees of honey and natural profiles made at home.) This washed lot is a standard depulped, fermented, washed, and screen-dried blend of cultivars from across La Candelaria.